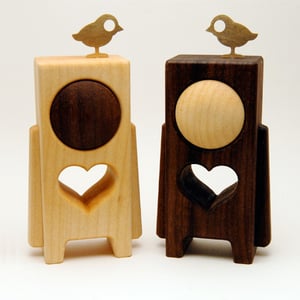 $

100.00
HEARTWOODS - 3.5" Wood Toys by pepe for Andy Heng from TOYSREVIL
First Edition | 12 Maple & 12 Walnut
RELEASE - Monday, November 22th
(Central European Time CET - 18:00)
- all crafted out of maple & walnut wood
- each comes with a little brass birdie on top
- iron-branding on backside with artist signatur
- numbered by embossing on the bottom
- these fellas have a linseed oil finish
all proceeds of this sale will be donated to Andy "TOYSREVIL" Heng, a leading voice and supporter of the Toy Art community, who has recently been hospitalized and is in recovery. read more here!
as a small token of our appreciation for your help you will get a brass birdie pendant and a small surprise with your order for free! :)
get to know more about HEARTWOODS here!
& check the WIP sneak peek pictures of how your HEARTWOOD Wood Toy was made here!